CLOUDS OF SILS MARIA 2nd October 2015
Gerringong Pics and Flicks
presents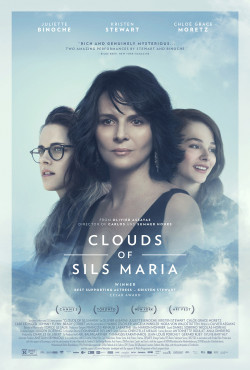 Maria Enders (Juliette Binoche) is an actress at the peak of her international career who is asked to perform in a revival of the play that made her famous twenty years earlier. Back then she played the role of Sigrid, an alluring young woman who disarms and eventually drives her boss Helena to suicide. Now she is being asked to step into the other role, that of the older Helena.
She departs with her assistant (Kristen Stewart) to rehearse in Sils Maria, a remote region of the Alps. Maria confronts her personal demons and prepares for the most important role of her life. Set in the scenic splendour of the Swiss Alps, Clouds of Sils Maria is propelled by tour-de-force performances from three actresses at the top of their game.
Rating: R (for language and brief graphic nudity) Genre:
Drama
Directed By:
Olivier Assayas
Written By: Olivier Assayas
Runtime:
Rotten Tomatoes Critics Consensus:
Bolstered by a trio of powerful performances from its talented leads, Clouds of Sils Maria is an absorbing, richly detailed drama with impressive depth and intelligence.
GERRINGONG PICS AND FLICKS
We are now on Facebook Gerringong Pics & Flicks